Canada's Black Justice Strategy
Black communities in Canada continue to experience the enduring impact of systemic racism, which manifests in diverse ways—from subtle forms of implicit bias to explicit acts of anti-Black and anti-African violence and discrimination. The roots of these challenges can be traced back to Canada's history of colonialism, slavery, and segregation. Despite the tireless efforts of Black communities to confront and remedy these injustices, substantial disparities in areas such as education, healthcare, and the criminal justice system persist within the country.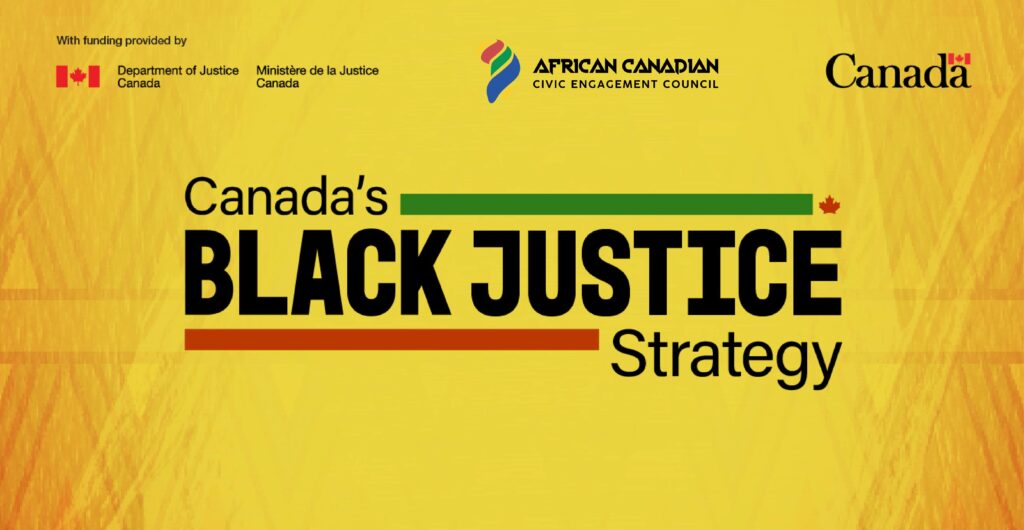 Responding to these challenges, The federal government has sanctioned the development of Canada's Black Justice Strategy – an important step in ensuring that Black communities receive fairer and equitable treatment before the law. The stratgey is currently in phase two, which involves gathering insights from diverse Black communities across Canada. The aim of Canada's Black Justice Strategy is to act as the federal government's formal response to anti-Black racism and systemic discrimination. Specifically, the strategy seeks to address the disproportionate representation of Black Canadians in the criminal justice system, both as offenders and as victims.  
To facilitate this initiative, Justice Canada has entered into contracts with 12 Black-led community-based organizations across Canada. These organizations are tasked with leading consultations and engagement activities with Black communities. For the provinces of Alberta, the African Canadian Civic Engagement Council has been appointed as the leading organization and will conduct consultations throughout September 2023.  
The overarching goal is to ensure that Canadians of African descent have equitable access to justice and are afforded equal protection under the law. To capture the unique perspectives and experiences of Albertans, ACCEC has been entrusted with the task of conducting interviews and focus groups in the province. We are engaging with both Black stakeholders and non-Black professionals who possess expertise working with and advocating for Black communities within the criminal justice system. The ultimate goal of this community consultation project is to compile a comprehensive report summarizing the insights gathered. This report will play a key role in shaping the Black Justice Strategy, thereby helping to rectify the longstanding structural challenges that have hindered the progress of Black communities in the criminal justice system in Alberta. 
On the international front, Canada's Black Justice Strategy aligns with the United Nations' International Decade for People of African Descent (2015-2024). This UN initiative calls for reforms in justice systems worldwide, recognizing the specific challenges faced by people of African descent, particularly within the criminal justice system.
Why Participate
Participation in Canada's Black Justice Strategy consultation offers several potential benefits, including giving community leaders and community members a seat at the table. This access provides a direct avenue for influencing government policies and decision-making processes that will affect their communities for years to come. The insights gathered can also inform resource allocation, ensuring that efforts are directed toward initiatives and programs most effective in combating systemic discrimination and inequality.  
Community Consultation Dates
The success of this vital initiative relies heavily on community participation. ACCEC is inviting individuals and organizations across Alberta to take part in the focus groups scheduled to take place on the following dates:
If you cannot attend any of the scheduled focus group session, you can take the survey to ensure your voice is heard.
The survey will close on Friday, September 29, 2023 at 11:59pm MDT.