ACCEC | The Impact of COVID-19 on Black Canadians.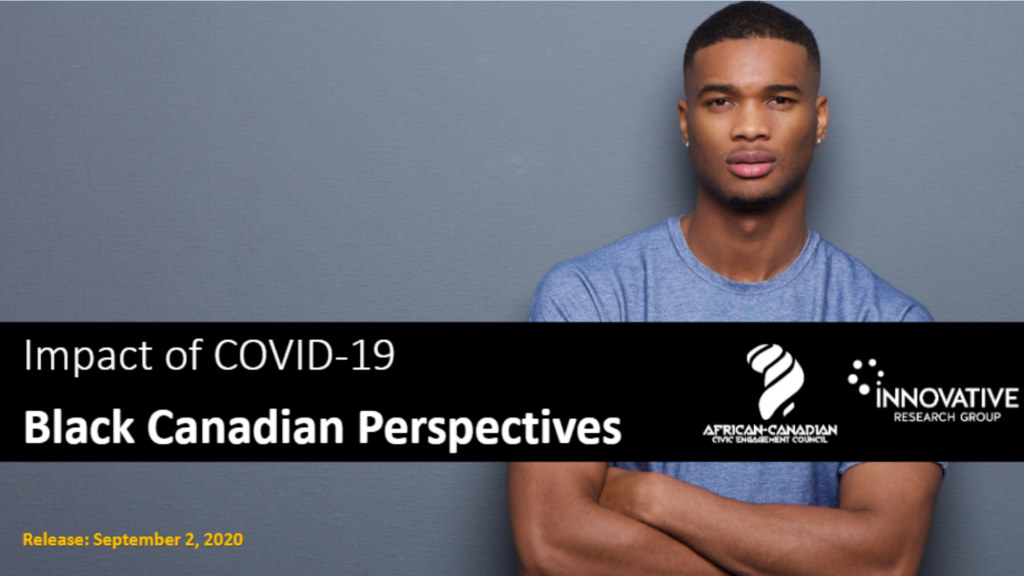 Through a partnership between the African Canadian Civic Engagement Council (ACCEC) and Innovative Research Group (INNOVATIVE), we released a study exploring the perceptions of Black Canadians regarding the direct health and economic impact of the COVID-19 pandemic on Canada's Black Community.
The study found that compared to the Canadian average, Black Canadians report far worse health outcomes related to COVID-19. They are more likely to report symptoms, say they sought treatment and nearly three times as likely to report knowing someone who has died of the virus.
Although further research is needed, poorer health outcomes for Black Canadians may be explained by greater exposure at work to the virus. Black Canadians are much more likely to report their job requires them to work with people face-to-face (net +41 vs. +25 national average). They are also more likely to feel that no matter what steps they take, their day-to-day routine puts them at an uncomfortably high risk of catching the virus. A factor may be the commute, as Black Canadians are twice as likely to take public transport (25% vs. 12%) and twice as likely to report that their commute is unsafe (24% vs. 12%)
Black Canadians are also more likely (56% to 43%) to report layoffs or reduced working hours in their household and are more worried, over the next few months, about paying rent (45% to 36%). They are also more likely than the Canadian average to say their household finances have been negatively impacted by COVID-19.
For detailed results, download our report here.